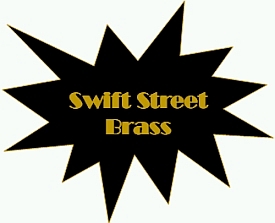 Current members:
Thomas Daskaloff, trumpet
Len Moore, trumpet
Lee Griffith, trumpet
Charles Old, trumpet
Michael Auest, trumpet
Rick Van Stolk, trumpet
Rob Franks, French Horn
Joe Dickinson, French Horn
Ken Weisner, French Horn
Mark Joiner, euphonium/trombone
Charlie McDowell, euphonium/trombone
Stan George, trombone
  Scott Harris, trombone
Bob Smith, trombone
Mike Herbert, tuba
Who we are:
We're a very informal group of brass musicians who get together to play for fun once a week in Santa Cruz, CA.
What we do:
We play brass quintet/ensemble works, mostly classical, some jazz and standards, but we'll try anything. We have some favorites and we also do a lot of sight-reading.
When and Where we meet:
We meet most every Saturday at 9:00 a.m. and play for about two hours. Our rehearsal space is at 222 Market St., Santa Cruz (near Market and Water St.). Map
Cost:
$3 per musician per rehearsal to cover the space rent, but newcomers are welcome to try us out for free. The space is large, well lit, has good acoustics, and it has a stage (and a bathroom). Chairs are provided - bring a music stand!
If you are interested in joining us, hearing us, or finding out more about us - or if you have any questions - please send us an email.
Sound Samples
Video Clips